"Well, one must learn by doing the thing; for though you think you know it, you have no certainty, until you try." Sophocles 496 – 406 BC
"Not having heard something is not as good as having heard it; having heard it is not as good as having seen it; having seen it is not as good as knowing it; knowing it is not as good as putting it into practice." From the first English translation of the Xunzi – the Chinese original from 818 AD
The concept of active learning has been with us for a long time, but it is only in the past several decades that it has regained traction in higher education.
Although many references go back to a 1991 paper written by Bonwell and Eison titled Active Learning: Creating Excitement in the Classroom. The notion that a student "learns by doing" goes back to an earlier time before instructional laboratories and studios were used to educate students – probably the University of Bologna or the University of Oxford – two of the oldest universities in the world. Actually, active learning goes back in time before formal schools, colleges and universities to primitive humanity – when all learning was by doing – was trial and error – was experimental – was experiential. That is how we learned to talk and invented language. That is how we learned about fire. That is how we learned which food was beneficial and which was harmful.
What we have seen in the past several decades is that cognitive research has shown the positive impact of active learning as applied in the formal setting of a college or university. Many colleges and universities have embraced the SCALE-UP style of room that was first introduced by North Carolina State and modified by MIT's TEAL Room, R.P.I. Studio Physics (see also Dickenson College) and now recreated on hundreds of other campuses around the country. It seems as if every campus believes that they need this style of active learning classroom whether their faculty have been trained or are skilled in applying active learning strategies and techniques.
Are these examples below – the Physics Studio and the SCALE-UP Lab – the only type of active learning classroom?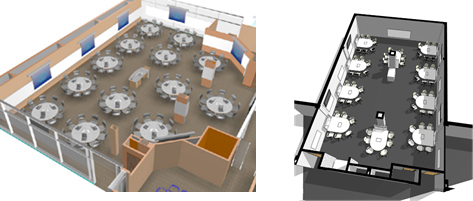 Can any traditional classroom also be an effective active learning environment?
I hate to say this, but almost any classroom can be an active learning environment depending on the skills and training of the faculty, their willingness to incorporate active learning techniques and strategies into the course syllabus, and the type of active learning activities that might be used. Some rooms are more constraining of active learning than those that are designed for it. Not all active learning strategies and techniques can be used in all rooms – some rooms limit or constrain what can be done. Others have furniture and technology that are designed for a certain style of active learning. Will students be working individually, in pairs of students, in small groups, or larger? To what extent will technology play a role?
Some rooms, such as those used in the SCALE-UP pedagogy are designed for a certain type of enhanced technology with small group interaction. Some rooms with flexible furniture and sufficient space can easily accommodate a range of active learning styles and techniques with or without technology. Even a large lecture room can be utilized in a creative way.
Within a large lecture, student response systems can be used – clickers for instance or polling software. There are online apps and software that encourage students to ask questions that can be gathered and displayed. Active learning doesn't always require technology. It is possible to pair up students either beside or behind their row. Continuous table lecture rooms are being designed in a tiered arrangement where each tier is designed to have two rows of tables on the same level. Students can simply turn around and work with partners on the same level.
University of Kentucky
It is possible, even in a large lecture room that was not designed for active learning to incorporate various techniques for student engagement. Small groups of 2, 3 or even 5 students can be given time to work together on answering questions or responding to various assignments.
Purdue University has developed their own software to encourage student engagement in large lecture room courses. "Hotseat" is an app that runs on any device that the student has with them – phone, tablet, laptop – and allows students to post questions and comments at any time during the discussion.
The Provost at Bowling Green State University would like to see all classrooms at the University transformed to active learning environments. That goal will take time to be realized. However, simply changing the furniture in most rooms can speed the process. Moveable chairs and tables will certainly help.
The Steelcase Node Chair is often cited as a flexible answer to the
traditional table-arm chair
One of the issues with moving away from the traditional tablet-arm chair or fixed chair environment to a more flexible classroom supportive of active learning is the greater amount of square feet per chair that is required. Essentially reducing the number of seats. In some cases, the impact is minimum, but on many campuses the classroom distribution will shift to more smaller capacity rooms. This shift in room capacity could impact course section size or create an imbalance of more small classroom then the University might need or want.
The Smith System is another typical style of flexible furniture
Indiana University / Purdue University Active Learning
There are a variety of strategies that faculty are using to encourage student engagement. The one-minute written summary, the use of journals, role playing, obviously small group discussion. The University of Minnesota's Center for Educational Innovation lists the following active learning strategies:
| | | |
| --- | --- | --- |
| Ice Breakers | Scenarios / Case Studies | Shared Brainstorming |
| Think / Pair / Share | Reciprocal Questioning | 3 - 2- 1 Format |
| Write / Pair / Share | Numbered Heads Together | Note check |
| Student Summaries | Roundtable | Background Knowledge Probe |
| Question and Answer Pairs | Corners | Generating Questions |
| One Minute Paper | Problem-Based Learning | Jigsaw Teamwork |
| Focused Listing | Ten-Two Strategy | Rotating Chair Discussions |
| Two Column Method | Peer Survey | |
Vanderbilt University's Center for Teaching has a different but related list of strategies:
| | | |
| --- | --- | --- |
| The Pause Procedure | Concept Map | Team Base Learning |
| Retrieval Practice | Mini Maps | Peer-led Team Learning |
| Demonstration | Decision Making Activities | Problem Base Learning |
| Think-Pair-Share | Case-based Learning | The Flipped Classroom |
| Minute Papers | Student Generated Test Questions | |
| Strip Sequence | Content, Form and Function Outlines | |
Most of these strategies can be used in almost any classroom, but several would be hindered in a room that was too dense and overcrowded with inflexible furniture. Effectively applying these strategies depends on the skill and training of the faculty. Faculty development is key.
If active learning is important to the institution, then having a professionally staffed faculty development center or office is essential. A resource for faculty to learn, experiment, and implement a style of working with students that may be unfamiliar or daunting. I have seen SCALE-UP style classrooms, beautifully created without much interaction and advice from faculty nor were faculty trained to use the space. Faculty who signed up to give a course but were unprepared to take advantage of the rooms technology and specific style of student engagement and didn't modify their syllabus nor change their class notes to reflect a different approach, were disappointed. It was really a disaster.
There are other spaces that support active and engaged learning and should be near and adjacent to scheduled classrooms, labs, and studios. Formal and informal small group meeting and collaboration spaces are essential support spaces for an active learning environment. Don't expect an architect to create these spaces out of the gross square feet of a building. These are net square foot spaces and should be programmed and planned as is every academic space.
When faculty, administrators, and architects talk about an active learning classrooms, they almost always picture a SCALE-UP1 style of room with various technologies available for both students and faculty. This style of active learning, was a way to teach undergraduate physics courses using enhanced technology to a large group of students that can be divided into groups of 3, 6, or 9 students. It quickly became an effective teaching space for other disciplines.
The room, commonly called a studio, usually is designed to accommodate round tables with seating for 9 students. Wired and wireless networking and power is provided to each table. Each table has a directly associated wall-mounted monitor. All the monitors in the room are networked together and can be centrally controlled by the faculty or individually controlled by the students at each table. There is no front of the room. It is a room designed for small and large group interaction, activities, and problem solving. It has become the stereotype active learning classroom.
In a way, it has become an easy solution to the much more difficult yet effective strategy of retraining faculty to embrace active learning.
M.I.T.'s Technology Enhanced Active Learning Studio (TEAL)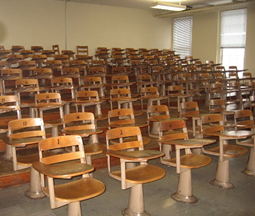 ....Sigh....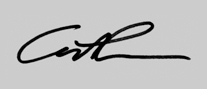 Arthur Lidsky
_________________________
1 Originally, SCALE-UP was the acronym for student centered activities for large enrollment undergraduate physics. The name evolved into student centered active learning environment for undergraduate programs. Lately, the SCALE-UP acronym has further evolved into student centered active learning environment for upside down pedagogies.